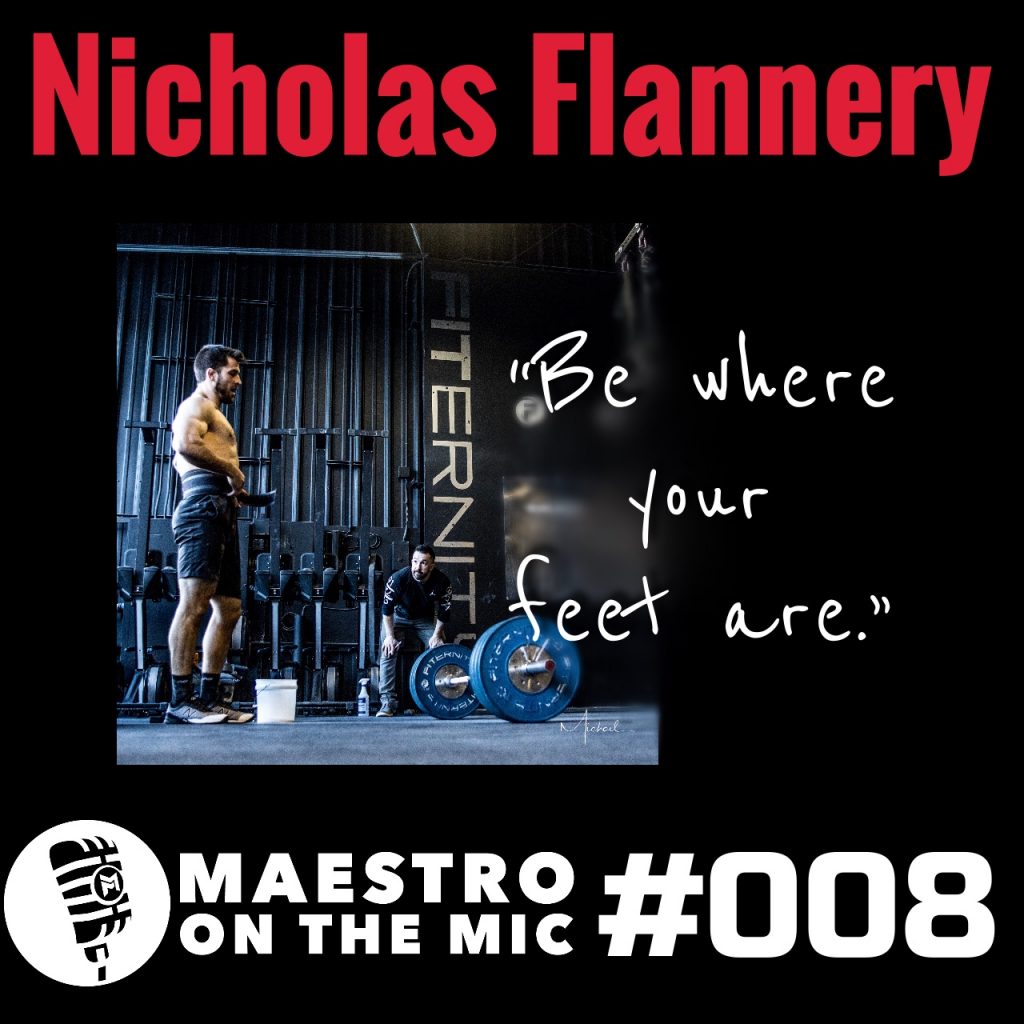 Brought Nicholas Flannery on the show and he absolutely CRUSHED it. This guy IS passion. This guy IS motivation. This guy IS living his best life.
Don't let that CrossFit picture fool you. There is FAR more to this young man, and that's exactly why I asked him to come on as a guest. Goal-setting, career changes, devastating injuries, pain science, support systems, going back to school, deciding to drop out of school…this episode has it all. And for those of you who are into CrossFit, Nicholas just happens to be a two-time Regional athlete AND the head coach at rockstar box, Fiternity…so yeah…he's the real deal.
Download it. Listen to it. Rate it. Subscribe. I hope you have as much fun listening to this episode as I had making it.
Time Stamps:
1:00 Show beginning
2:45 Learn about Nicholas
5:40 The CrossFit Level 1 Certification
8:35 CrossFit and being selfless in
10:00 Changing directions in life – going back to school
11:30 Follow your passion and "be where your feet are"
14:23 "Never avoid doing something because of the time it will take; that time will pass anyway."
16:00 Leaving your comfort zone
18:16 Setting goals and accomplishing them: Competing in CrossFit Regionals
22:47 Stepping away from CrossFit
26:20 Movement is an identity
28:16 Pain science
–Greg Lehman
–David Butler
–Lorimer Moseley
–Adriaan Louw
30:02 The benefits of taking a break
31:03 Love – Kid Cudi
34:23 90's hip hop and relatability
35:40 Barbell Shrugged
Chris Moore – Get Change
37:23 Nick lifts a TON of weight
39:43 Shoulder surgery
43:00 Pain Science Part II
44:08 Nicholas sums up the Sympathetic Nervous System (SNS) and Parasympathetic Nervous System (PNS) so nicely
46:13 The importance of a support system
48:03 The role of the physical therapist
52:18 "You don't have to feel good about everything"
53:10 Being a head coach at a CrossFit box
54:48 You cannot make someone care
58:20 Memories are happening right now
Contact Nicholas
Instagram: @flannery.nicholas
email: nick@fiternitygym.com
Nick's CrossFit box: @fiternitygym