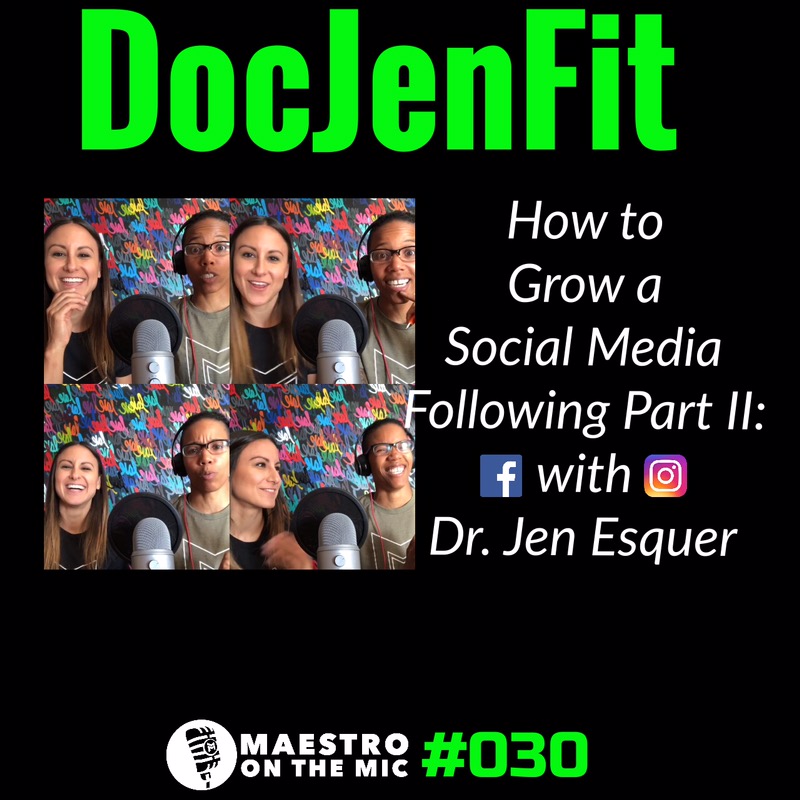 464, 000 of you know her as DocJenFit. Listen to the entirety of this episode and I promise you'll know her as so much more.
Brought on my girl, Dr. Jen Esquer to talk all things social media, but also to talk about her story and share some things about herself that I'm pretty sure you haven't heard before. Stop judging books by their covers and take the time to actually read them, or in this case, listen.
Connecting with people via social media is no different than connecting with people in real life, and this episode discusses exactly that. Tune in to the whole thing to hear the nuances of growing a social media following such as:
When to post
What to post to capture your audience's attention
How often to post
How to use hashtags
How to collaborate with other people on social media
But do yourself a favor and keep your ears open for the truly good stuff we get into, including:
Being genuine
Leading with service
Being relevant to your audience
Having a giving mentality
Why you should never buy followers
The importance of connection
Why an abundant mindset is the best kind of mindset
There are no guarantees when it comes to social media growth, but, after listening to this episode you'll realize it's the relationships, not the numbers, that truly matter.
PS – Make sure you listen all the way to the end. Jen's got a nice little challenge for ya.
In this episode:
4:36 Meet DocJenFit
8:01 Why Jen quit gymnastics
12:17 Why Jen went into physical therapy
15:06 Jen starts social media
20:23 There's more than just what you see on social media…
27:51 Why Jen started posting more
31:41 Don't blame the algorithms
32:31 Creating content that the popular page is going to pick up and is catchy to the eye
33:16 Know your audience and make your content digestible
36:14 Collaborating with other accounts
41:00 Consistency and building trust
42:30 Best time for Jen to post
43:35 Play around with posting
43:50 Instagram is a billboard
44:16 Landscape or portrait for pictures
46:45 Videos, music, talking
48:48 Hashtags?
50:35 The Mobility Method and The Optimal Body
57:08 Lewis Howes
1:00:20 MOTM #017
1:02:41 Connecting, not marketing
1:12:23 abundance
Contact/follow/learn from Dr. Jen Esquer:
IG: @docjenfit
Facebook: DocJenFit
The Mobility Method
The Optimal Body