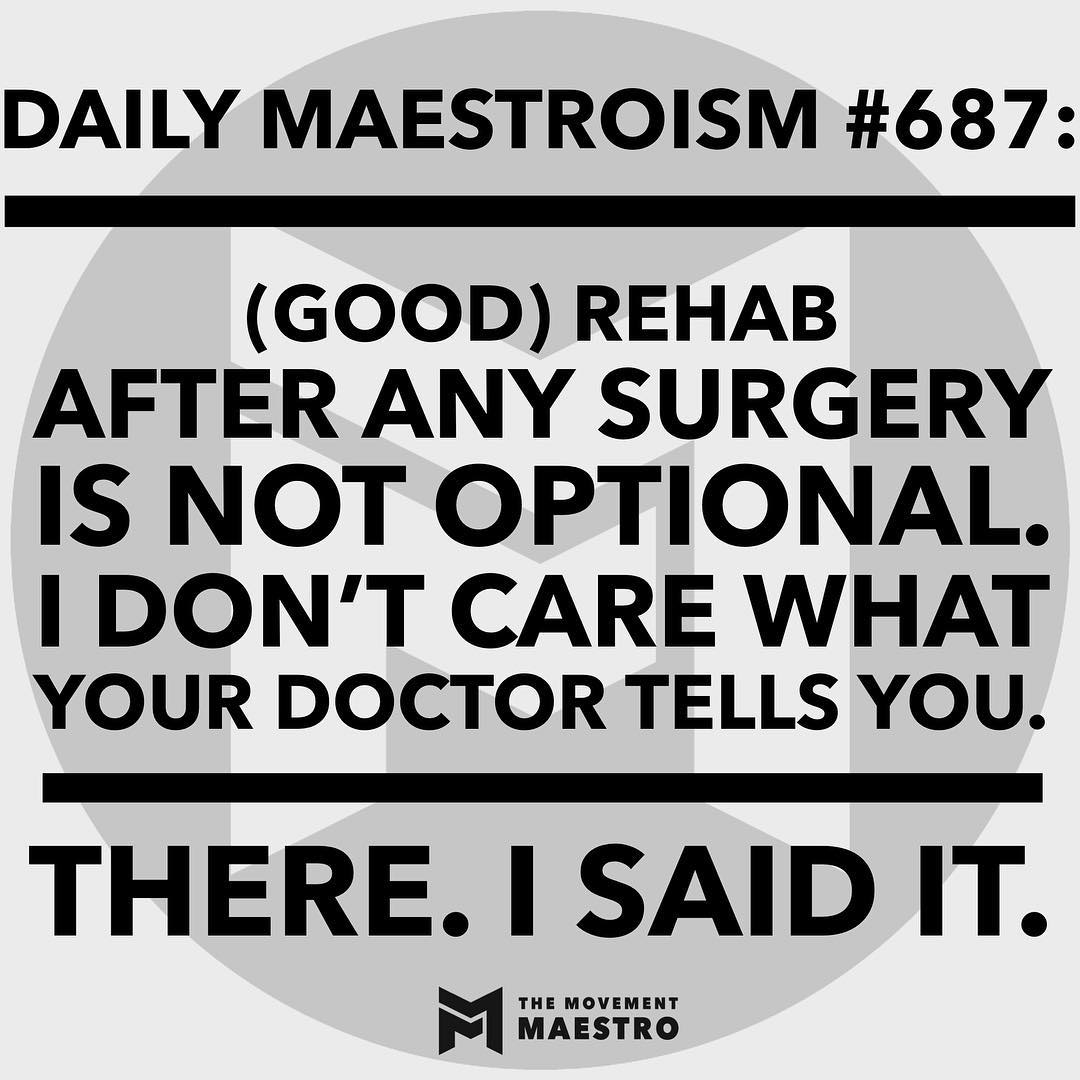 DM #687
Tuesday, April 10th, 2018
DM #687: Surgeons are good at surgery…not rehab. PTs need to market better and just generally be better at what they do on the whole. Patients need to educate themselves and be their own best advocates. I'm looking 👀 at all sides in this debate.
—
Honestly, I'm sick of hearing about folks getting surgery and then getting ZERO physical therapy. What kind of 💩 is that? Surgeons, get it together. PTs, get it together. Patients, get it together. Everyone needs to do better.
—
To the surgeons: physical therapy is not just about restoring FULL function, it's about figuring out why that injury occurred in the first place and working to prevent it from happening again. Physical therapists: stop arguing amongst yourselves and start making yourselves more relevant and visible to both surgeons and patients. And if all you do is ice/heat packs, stim, ultrasound, and 8 minutes of manual…DO BETTER 🤦🏽‍♂️. Patients: read up about your surgery and about the recovery. Get second opinions. Reach out to PTs and ask what they think about the recovery/rehab. Question (respectfully) what your doctor says! It's your body! The only EASY surgery is one that isn't yours.
—
Ok. I think that's the end of my rant. 😤 Feeling marginally better. I just want better for everyone; surgeons, PTs, and patients alike. We are ALL in this together. F*ck the insurance companies. They ain't in this with us 🤦🏽‍♂️.
—
Daily Maestroisms dropping whenever the craziness of life allows 🤷🏽‍♂️. Get yours.
Like it? Repost it. Don't understand it? Hit me up and get #Maestrofied.
———————————————-
Be sure to follow The Movement Maestro on FB, Instagram, Twitter, and YouTube for all things #movement related. Come move with the Maestro.