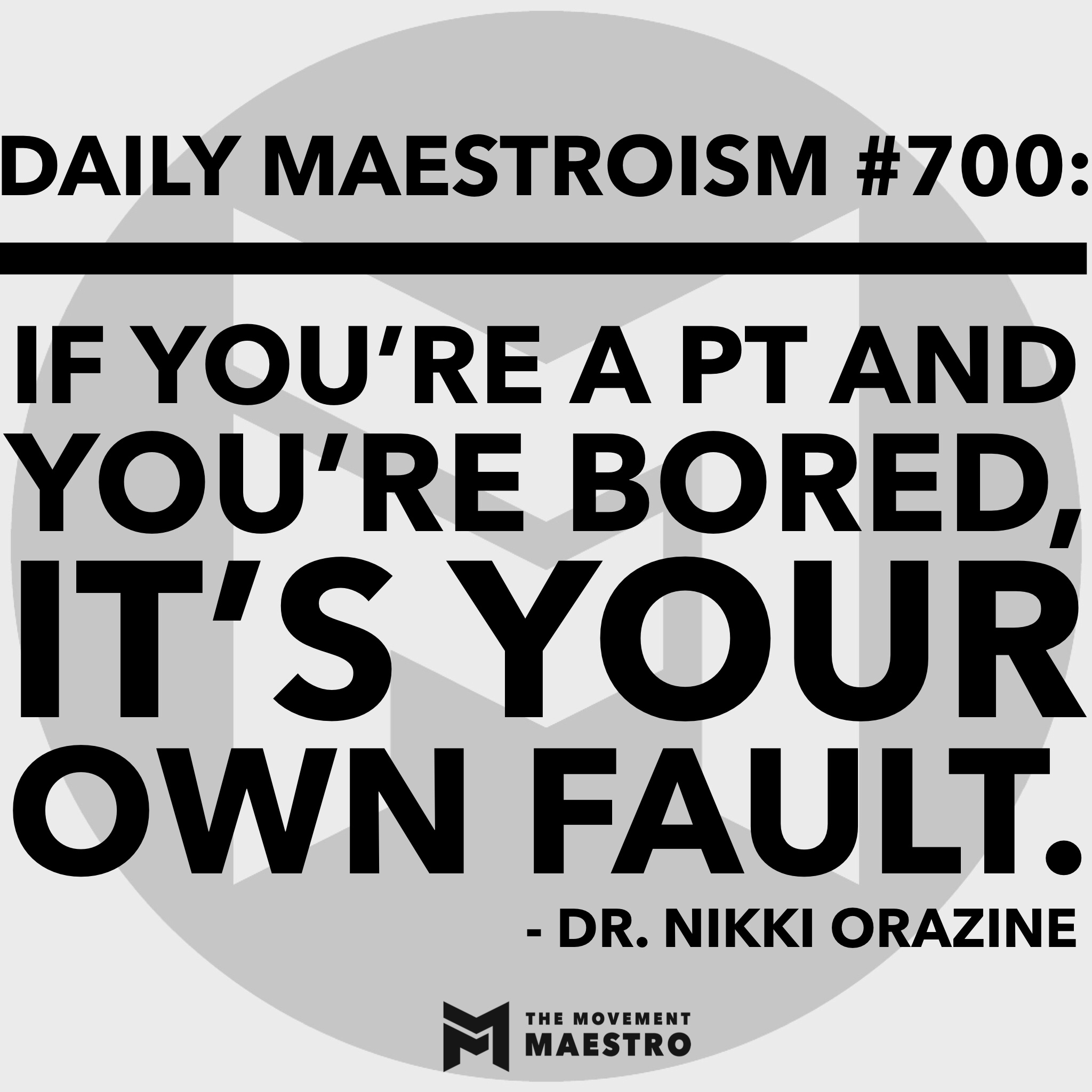 DM #700
Monday, April 23rd, 2018
DM #700: Whoa. 700 Daily Maestroisms. Whoa. @motusx bringing the 🔥.
—
If you read this and got 🍑-hurt, then you need to read this again and realize just how much it pertains to you.
—
Recorded a podcast today with my homies at @motusx and afterwards, Nikki dropped this bomb. I couldn't agree more.
—
As physical therapists we have the tools to become ANYTHING we want. We can make our professional lives ANYTHING we want them to be. As cliche as it sounds, the sky really is the limit.
—
You can treat, you can teach, you can travel, you can work with 👵🏼👴🏽, you can work with 👶🏼🧒🏽, you can help 🏃🏾‍♀️ 🏋🏻‍♂️🏌🏼‍♂️, or you could hit up the lab and do 📝. You can literally do ANYTHING. If you hate it, change it. If you love it, keep going. If you want more, to get it.
—
I get it. Change is scary. But regret…that's terrifying. Build the life you want. Happiness is yours for the making.
—
PS – thanks for joining me on this crazy ride. Cheers 🍻 to 700.
—
Daily Maestroisms dropping whenever the craziness of life allows 🤷🏽‍♂️. Get yours.
Like it? Repost it. Don't understand it? Hit me up and get #Maestrofied.
———————————————-
Be sure to follow The Movement Maestro on FB, Instagram, Twitter, and YouTube for all things #movementrelated. Come move with the Maestro.